Routed Signs Printing | Services - Denver Print Company
Mar 17, 2019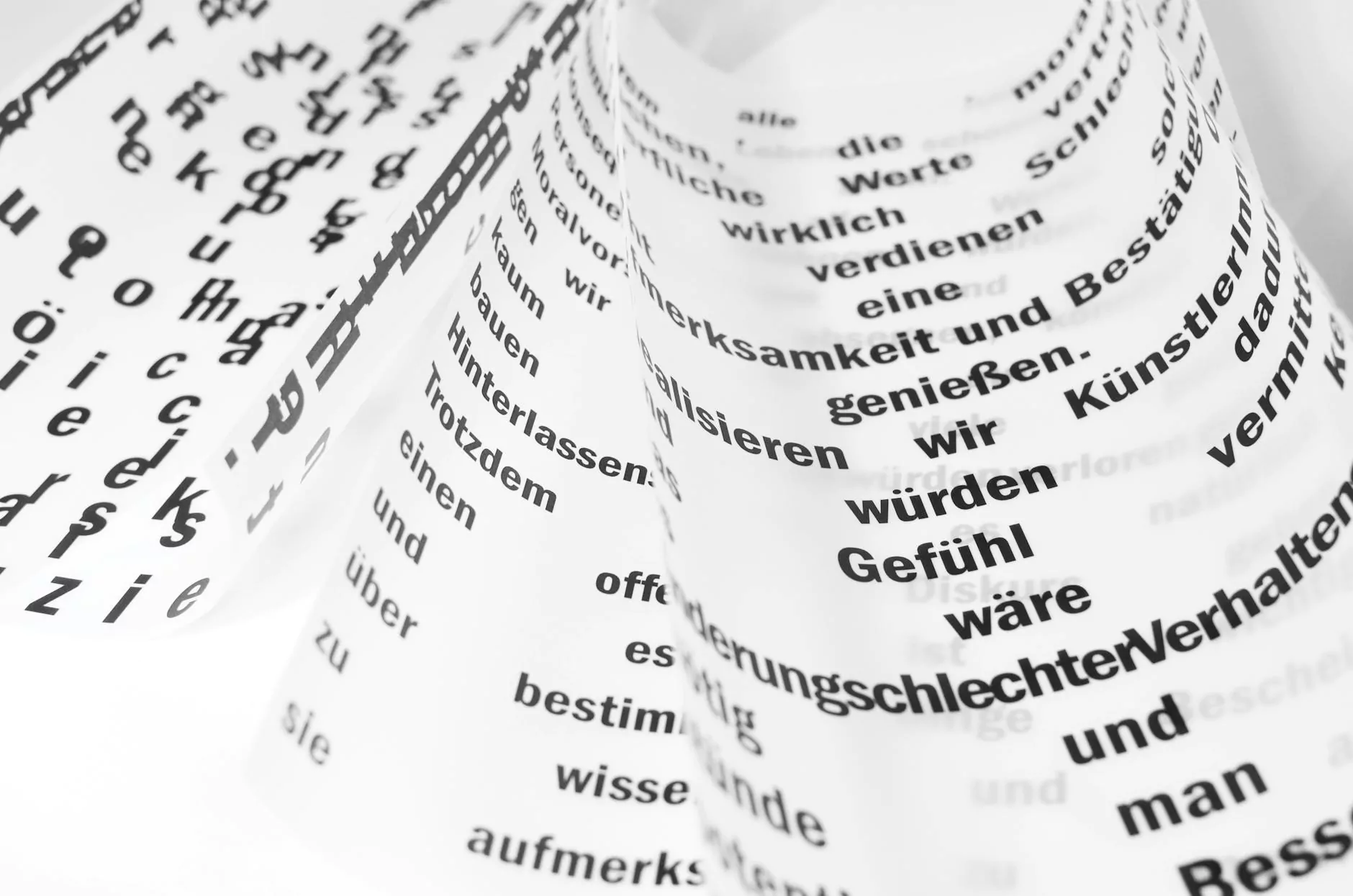 Boost Your Business's Visual Appeal with Routed Signs Printing
Welcome to Anderson Efficiency Specialist, your trusted partner for top-notch routed signs printing services in Denver. We are dedicated to helping businesses like yours achieve a professional and captivating visual representation through our exceptional signage solutions. Whether you need eye-catching exterior signs or attention-grabbing indoor displays, our team of experts is here to bring your vision to life.
Why Choose Our Routed Signs Printing Services?
Unparalleled Quality and Durability
At Anderson Efficiency Specialist, we understand that the success of your business heavily relies on the impression you make. That's why we make no compromises when it comes to quality. Our routed signs are crafted with precision using state-of-the-art equipment and premium materials, ensuring exceptional durability and longevity. With our signs, you can confidently showcase your brand in any weather condition or high-traffic environment.
Customization Tailored to Your Brand
We believe that every business is unique, and your signage should reflect that. Our team of talented designers and print specialists will work closely with you to understand your branding goals and create custom routed signs that perfectly align with your identity. From selecting the right colors, fonts, and graphics to incorporating your logo and tagline, we pay meticulous attention to detail in order to create signage that truly represents your business.
Expert Consultation and Guidance
Choosing the right signage solution can be overwhelming, especially with the multitude of options available. At Anderson Efficiency Specialist, we simplify the process by offering expert consultation and guidance. Our knowledgeable team will assess your needs, provide valuable insights, and recommend the best-routed sign options tailored to your specific goals, budget, and location. We are here to help you make informed decisions and achieve maximum impact with your signage.
Timely Delivery and Installation
We understand the importance of time in the fast-paced world of business. When you choose our routed signs printing services, you can rely on us to deliver your signage project on time, without compromising quality. Our efficient production processes, coupled with our dedicated installation team, ensure that your signs are ready to captivate your target audience when you need them the most. We are committed to exceeding your expectations in terms of both quality and turnaround time.
Transform the Way Your Business Communicates with Routed Signs
Routed signs offer a multitude of benefits for businesses across various industries. Whether you run a retail store, restaurant, office, or any other type of establishment, investing in high-quality signage can significantly enhance your brand visibility and drive more customers through your doors.
Outdoor Routed Signs
Make a bold statement and stand out from the competition with our eye-catching outdoor routed signs. These signs are specifically designed to withstand the elements while maintaining their vibrancy and appeal. From monument signs to post and panel signs, we offer a wide range of options to suit your specific location and aesthetic preferences.
Indoor Routed Signs
Your business's interior is just as important as its exterior. Enhance the ambiance and professionalism of your space with our stunning indoor routed signs. From lobby signs to directional signage, our indoor signs are sure to leave a lasting impression on your visitors and create a cohesive and visually appealing environment that reflects your brand's personality.
Wayfinding and ADA Compliant Signs
For businesses that prioritize accessibility and inclusivity, we also offer routed signs that comply with ADA (Americans with Disabilities Act) regulations. Our wayfinding signs help guide visitors through your space, ensuring a smooth and enjoyable experience. With clear and easy-to-read signage, you can create a welcoming environment for all, while also showcasing your commitment to inclusivity.
Contact Us for Exceptional Routed Signs Printing Services in Denver
Ready to take your business's visual communication to the next level? Look no further than Anderson Efficiency Specialist for industry-leading routed signs printing services in Denver. Our team of experts is passionate about helping businesses like yours thrive through captivating signage solutions.
Contact us today to schedule a consultation and discuss your signage needs. Let us bring your vision to life and make a powerful statement with our top-notch routed signs printing services. Elevate your brand, captivate your audience, and leave a lasting impression with Anderson Efficiency Specialist.
Remember, when it comes to routed signs printing services that deliver outstanding results, Anderson Efficiency Specialist is your trusted partner in Denver.